The Inkless Pen/Endless Pen – when I first read an article about this awesome innovation, I was bedazzled by the limitless possibilities and benefits it could deliver. Give it to thehands of artists and be amazed by the amazing stuffs they could do with it. Imagine how much trees we can spare from making pencils used for sketching and doodling. Moreover, picture scribbling underwater without smudging the ink and writing in space without having the trouble of sharpening the pencil.
At first thought, these benefits may not be that significant to us now, but the Inkless Pen might potentially give a greater impact to us in the future. For now, why don't we just appreciate this revolutionary invention?
The Inkless Pen has a metal alloy tip that transfers a minimal amount metal to the surface of the object your writing or drawing on. It lives a permanent, smudge-free, silvery marking that resembles writings from a pencil. On the side note, it has a small amount of lead not enough to be harmful to people or the environment.
Now, as for the claim it last forever I couldn't really give a straight answer since I haven't tried it and I, myself is a finite being. : )  But I guess since it's made of metal I believe it would essentially last quite a long time.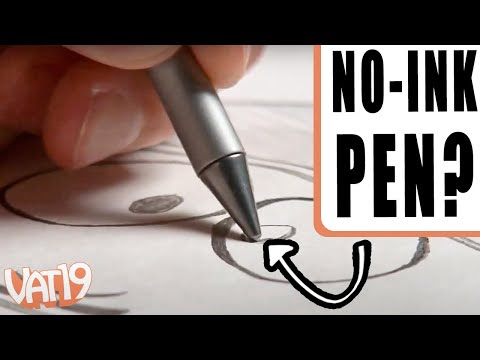 You can buy the product at www.vat19.com for about $27. It comes in different finishes, like Black, Cherry Wood or Silver.
So what do you think about this pen? Can you think of other benefits this could give us? Share your thoughts below.
Share and Enjoy
The following two tabs change content below.
Mark is passionate for arts. Dance,design and illustration are just some of the things he enjoys doing. He is currently working as a Web Programmer,but his desire to be creative will always be something at heart.
Latest posts by Mark Vincent del Rosario (see all)